From ESPN.com:  "Rick Pitino's march through college basketball history has been unusual in more ways than one.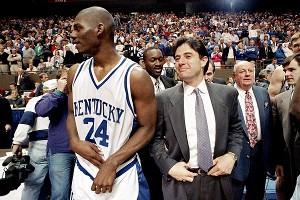 AP Photo/Ed Reinke
Jamal Mashburn
was not only one of Rick Pitino's best players, he anchored one of the most important teams in
Kentucky
basketball.
Unlike many of his Hall of Fame peers, who find their Valhalla and stay there until they retire, Pitino has been atypically restless. In 1983, he left Boston University, his first head-coaching gig, to be an assistant with the New York Knicks. In 1987, after just two years at Providence, he went back to Madison Square Garden as the head coach. In 1997, after a massively successful tenure at Kentucky — a last-stop summit most coaches spend their entire lives fighting to scale — Pitino left for the NBA again, this time to take over the Boston Celtics. His constant search for the next challenge has in some ways obscured the accomplishment; imagine how many career wins the guy would have if he'd been coaching college games uninterrupted since 1978. Imagine if he'd never left Kentucky. Yeah. Yikes."
Walter Cornett, of Glendale, Kentucky, is the owner and operator of Walter's Wildcat World. He founded WildcatWorld.com in 1998 making it one of the oldest Kentucky basketball fan sites in operation today.