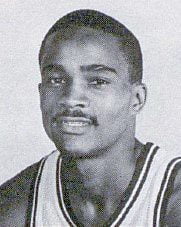 Name

Ed Davender

Position

Guard

Class

SR

Hometown (Last School)

Brooklyn, NY (Boys and Girls)

Ht

6'2"

Wt

165

Seasons

1984-85, 1985-86, 1986-87, 1987-88

Birthday

May 26, 1966
Edward Earl Davender, arguably the most under-appreciated star player in University of Kentucky basketball history, was born May 26, 1966 in Brooklyn, New York to Eugene and Juanita Cox. His UK teammates and friends affectionately called him "Ed" or "Eddy D."  In high school, he was known as "Bug" or "Bug Eye."  He was a noted streetballer, and considered to be among the best New York shooting guards throughout his high school career.  Initially Davender played at Alexander Hamilton High School in Brooklyn, where he averaged 29 points per game until the school closed down.  He transferred to Boys and Girls High School, where he became a McDonald's All-American and Parade All-American during his senior year.  He was named to nearly every prep All-America team.  He averaged 11 ppg as a freshman, 22 ppg as a sophomore and 31 ppg as a junior. He averaged 34 points (49 in one game), 10 rebounds and five assists per game as a senior and was regarded as the finest outside shooter in the state, and one of the best in the country.  He scored over 2,000 points in his high school career.  He was chosen All-NYC, as both a junior and a senior.  He scored 16 points in the McDonalds' Classic all-star game.
He was the first New York City player to be recruited successfully by Kentucky in 25 years.  Leonard Hamilton described Davender's recruitment to Kentucky as a case of "love at first sight." The mutual attraction had Davender seeing UK as a place to further his pro ambitions and UK seeing a standout backcourt player who could excel at both ends of the court.
"He came as a freshman as one of the best defensive guards Kentucky ever had in the history of the program," Hamilton said. "Even when he didn't have great technique, his effort and quickness and speed was at such a level that he wanted every defensive challenge you gave him."
"The only thing he knew was one way: all his heart and all his soul," said Leonard Hamilton, the assistant coach who led the effort to recruit Davender out of Brooklyn, N.Y. "That's how he operated."
Joe B. Hall, the UK head coach in Davender's freshman season, remembered a player blessed with basketball intelligence and skill.
"He was a real heady basketball player," Hall said. "A good team man. He always gave his most every game (and) every practice."
As a freshman, he finished as the second-leading scorer on team averaging 8.5 points a game. He was the second-leading assist man with 83 and played in all 31 games as a freshman, starting in 12 of those games.  He closed out the season on a high note scoring 22 points against LSU in the last regular-season game. He scored 13 against Florida in the SEC tournament then scored 33 points and pulled down 11 rebounds in three NCAA tournament games. Davender scored in double figures in eight of the last 10 games of the year and scored a career-high 27 points against East Tennessee State in the opening game of the UKIT. He scored 20 points against Kansas at Louisville's Freedom Hall.  Davender led the team in steals with 33.  At the end of the season, he was awarded the Freshman Leadership Award.
With Hall's retirement in the spring of 1985, Eddie Sutton was Kentucky coach for Davender's final three seasons. One of Sutton's assistants, Doug Barnes, also recalled Davender's on-court desire.
"He was one of the best competitors I ever coached," Barnes said. "And he was one of the best defensive players I ever coached, and also one of the favorite players I ever coached."
Coaches are partial to players who are willing to defend, Barnes said with a chuckle.
As a sophomore, Davender was the third-leading scorer on the team with an average of 11.5. He averaged 2.7 rebounds a contest.  He started all games but one last season.  The only exception to that being senior night when Byrd started in his place.  Davender was second-leading assist man behind Roger Harden with 121 assists. That's an average of 3.4 game.  He also led the team again in steals with 59.  Davender scored in double figures in 24 of Kentucky's 36 games.  His season-high was a 22 point performance against Indiana at Rupp Arena.  He was second on the team in minutes-played with 31.7 a game.
As a junior, Davender was named to several pre-season All-America teams (honorable mention).  He was named second-team All-Southeastern Conference by the UPI and named third-team All-SEC by AP.  He became the 33rd player in UK's illustrious basketball history to reach the 1,000 point mark and was 27th on UK's all-time scoring list at the time with 1,120 career points. Davender was second leading  scorer on the team as a junior with a 15.2 average was second-leading assist man with 101.  He was second in steals with 47.  He scored career-high 29 points twice.  He was considered one of Kentucky's most consistent players scoring in double figures in 22 of UK's 29 games.  He passed the 20-point mark nine times.
As Davender liked to point out, he also was productive on offense. He remains the only Kentucky player with more than 1,500 points and 400 assists. He ranks 11th on UK's career scoring list with 1,637 points, eighth in assists (436) and fourth in steals (191).
No guard in UK basketball history has shot more free throws than Davender, who took 553. And only three players (Walker, Dan Issel and Cotton Nash) got to the foul line more often.
The two-time Associated Press All-SEC selection helped Kentucky win SEC tournament titles in 1986 and 1988 and play in four NCAA tournaments.  He had an excellent assist-turnover ratio (434-77 in 1987-88, 436-297 career).
Yet, Davender was overshadowed throughout his Kentucky career, first by Walker, then by Rex Chapman.
A book produced by The Sporting News, Big Blue: 100 Years of Kentucky Wildcats, said, "Davender's name doesn't roll off the tongues of Kentucky fans when they discuss UK's foremost players. But there's no denying the guard's significant contributions to the program."
The Kentucky Basketball Encyclopedia said Davender was "arguably, the most under-rated, under-appreciated guard in UK history."
When asked if he agreed that Davender's contributions had been under-appreciated, Hamilton said, "Absolutely. No doubt about it."
Hall and Hamilton said that Davender learned how to play basketball on the playgrounds of New York City. His family's apartment, which he shared with his mother and grandmother, was only a block or so from a playground, Hall recalled.
Challenges abounded in the Southeastern Conference at that time. For instance, opposing guards included Vernon Maxwell and Andrew Moten at Florida, Tony White at Tennessee, Phil Cox at Vanderbilt, Terry Coner at Alabama and Rod Barnes at Ole Miss.
In the inaugural Big Four Classic, Davender led Kentucky to an 82-76 victory over Indiana. He scored a team-high 22 points and held IU's Keith Smart to 2-for-9 shooting and five points.
Davender started 12 games and averaged 23.4 minutes as a freshman. He played an unusually prominent role at a time when coaches typically eased freshmen into the rotation.
From the beginning, Davender seemed unfazed by the responsibility and the unblinking Kentucky basketball spotlight.
Barnes said that Davender was "probably a lot wiser and smarter than his years."
Hamilton recalled Davender playing with a determination.
"He was just a confident, hard-nosed, tough New York City type of guard," Hamilton said. Davender "really never showed a whole lot of emotion one way or the other. He was the epitome of consistency."
After his college career, Davender faced hardship and downturns, some self-inflicted.
He was selected by the Washington Bullets as the 60th overall pick in the 1988 NBA draft, but never played professionally.
A heart murmur contributed to Davender's decision not to pursue a pro career.  An ill-considered decision not to report to the team's rookie camp until after it had already started did not help his chances of making the team.
Later, while working in Kentucky, Davender was convicted of committing a series of college basketball ticket scams in Fayette and other counties, including Harrison and Fleming. Victims lost tens of thousands of dollars in some of the cases.
Davender pledged in court to "pay every penny" of what he owed, his public defender, Dennis Shepperd, said in 2011.
Chapman also vouched for Davender paying back victims for their losses.
"I am positive that anybody Eddie D harmed or wronged in this whole deal will be repaid what they are owed," Chapman said at the time. "It's the kind of guy he is. It may take him some time, but I know he'll make it right. It's who he's always been."
More recently, Davender worked for Lexington's Parks and Recreation Department. One of his co-workers, Madden Miller Jr., said Davender did not like to relive his glory days.
"Very humble," Miller said. "I'd bring up basketball. I'm a diehard fan. He didn't want to talk about it. He'd say it was in the past. Let's leave it there."
On April 26, 2016, he suffered a massive heart attack.  He was kept on life support until his mother, Juanita, could come and be with her son.  He died on April 30, 2016.
College Statistics:
Per Game
| Season | G | GS | MP | FG | FGA | FG% | 2P | 2PA | 2P% | 3P | 3PA | 3P% | FT | FTA | FT% | ORB | DRB | TRB | AST | STL | BLK | TOV | PF | PTS |
| --- | --- | --- | --- | --- | --- | --- | --- | --- | --- | --- | --- | --- | --- | --- | --- | --- | --- | --- | --- | --- | --- | --- | --- | --- |
| 1984-85 | 31 | 12 | 23.4 | 3.0 | 7.3 | .412 |   |   |   |   |   |   | 2.5 | 3.4 | .736 |   |   | 1.5 | 2.7 | 1.1 | 0.1 | 2.4 | 1.8 | 8.5 |
| 1985-86 | 36 | 35 | 31.7 | 4.3 | 9.8 | .438 |   |   |   |   |   |   | 2.9 | 3.6 | .794 |   |   | 2.7 | 3.4 | 1.6 | 0.1 | 1.9 | 2.4 | 11.5 |
| 1986-87 | 29 | 29 | 34.0 | 5.5 | 12.3 | .448 | 5.0 | 10.3 | .487 | 0.5 | 2.0 | .254 | 3.7 | 5.0 | .738 |   |   | 3.0 | 3.5 | 1.6 | 0.0 | 2.4 | 2.2 | 15.2 |
| 1987-88 | 33 | 33 | 34.7 | 5.2 | 11.2 | .466 | 4.6 | 9.1 | .505 | 0.7 | 2.2 | .306 | 4.5 | 5.2 | .871 |   |   | 2.2 | 4.0 | 1.6 | 0.1 | 2.3 | 2.1 | 15.7 |
| Career | 129 | 109 | 31.0 | 4.5 | 10.1 | .444 |   |   | .496 |   |   | .282 | 3.4 | 4.3 | .792 |   |   | 2.3 | 3.4 | 1.5 | 0.1 | 2.2 | 2.1 | 12.7 |
Totals
| Season | G | GS | MP | FG | FGA | FG% | 2P | 2PA | 2P% | 3P | 3PA | 3P% | FT | FTA | FT% | ORB | DRB | TRB | AST | STL | BLK | TOV | PF | PTS |
| --- | --- | --- | --- | --- | --- | --- | --- | --- | --- | --- | --- | --- | --- | --- | --- | --- | --- | --- | --- | --- | --- | --- | --- | --- |
| 1984-85 | 31 | 12 | 725 | 93 | 226 | .412 |   |   |   |   |   |   | 78 | 106 | .736 |   |   | 45 | 83 | 33 | 2 | 74 | 55 | 264 |
| 1985-86 | 36 | 35 | 1142 | 155 | 354 | .438 |   |   |   |   |   |   | 104 | 131 | .794 |   |   | 98 | 121 | 59 | 2 | 69 | 87 | 414 |
| 1986-87 | 29 | 29 | 987 | 160 | 357 | .448 | 145 | 298 | .487 | 15 | 59 | .254 | 107 | 145 | .738 |   |   | 88 | 101 | 47 | 1 | 70 | 64 | 442 |
| 1987-88 | 33 | 33 | 1145 | 173 | 371 | .466 | 151 | 299 | .505 | 22 | 72 | .306 | 149 | 171 | .871 |   |   | 71 | 131 | 52 | 3 | 77 | 68 | 517 |
| Career | 129 | 109 | 3999 | 581 | 1308 | .444 |   |   | .496 | 37 | 131 | .282 | 438 | 553 | .792 |   |   | 302 | 436 | 191 | 8 | 290 | 274 | 1637 |