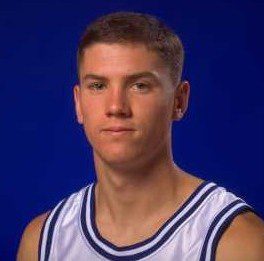 Name

Jeff Sheppard

Position

Guard

Class

SR

Hometown (Last School)

Peachtree City, GA (McIntosh)

Ht

6'4"

Wt

189

Seasons

1993-94, 1994-95, 1995-96, 1996-97, 1997-98

Birthday

September 29, 1974
Jeffrey Sheppard was born Jeffrey Kyle Sheppard on September 29, 1974, in Marietta, Georgia to Ralph and Kyle Sheppard. He attended elementary school in Athens, Georgia, the home of the University of Georgia. His family moved to Peachtree City, Georgia, when he was in the 7th grade, and he began to build his legacy as a McIntosh Chief. The Chiefs finished Sheppard's freshman season 13-11, the first winning season in school history. He led them to their first Region 4-AAAA Division II championship in the school's history. Many of Sheppard's games at McIntosh were legendary and are still talked about with reverence. He scored 31 points against 5th-ranked LaGrange as a sophomore. As a junior, he scored 18 in the first half against Morrow, and those are just the tip of the iceberg.
As a junior in high school, Sheppard, averaged 20.0 points, 8.0 rebounds and 8.0 assists per game to lead McIntosh High School to a 23-4 record and a subregional championship. He shot 60 percent from the field, including 52 percent from 3-point range. At that time he was already the all-time leading scorer at McIntosh, with 1,495 points. He was team Most Valuable Player, the MVP of the Henry County Christmas Classic, and the Atlanta Tipoff Club's Metro Player of the Month for January 1992.
As a senior in high school, he averaged 28 points, 11 rebounds, and six assists. For his career, he compiled 1,919 points, and holds the school and county scoring, rebounding, assists, three-point shooting, and free-throw shooting records for Fayette County, Georgia. He was chosen player of the year, Mr. Basketball, by the Atlanta Journal-Constitution. He was also the Metro (Atlanta area) player of the year, first-team all-state, and a member of the Georgia Terrific 10 (the 10 best players from all classifications), and a Converse All-American. Additionally, he was the team most valuable player for three straight years (sophomore, junior, senior), and is the first player to have his jersey retired by McIntosh. Besides the basketball and track honors, he was Gatorade Academic Player of the Year and McIntosh Academic Athlete of the Year. He was also the MVP in the annual Georgia-Tennessee All-Star Game.
As a sixth-grader, Sheppard wrote an essay saying he planned to play one day for the Wildcats in the Final Four before going on to the NBA. In August of 1992, Sheppard verbally committed to UK. At 8:20 a.m. on November 11, 1992, he penned his name to a national letter of intent, just minutes after the fall basketball signing period began, and faxed it to the Kentucky basketball offices. "I've wanted to play for Kentucky since I was a little kid," said Sheppard. "When I visited Lexington, I knew it was the place for me. If I had been going to play football at Georgia, it would have been different. I'm sure Georgia gets excited about basketball when the season rolls around but they aren't always excited like they are in Kentucky." Rick Pitino compared him to two former fan favorites — Rex Chapman and Kyle Macy. Sheppard's leaping abilities helped him win the Boston Shootout Slam Dunk contest as well as the Georgia state high jump championship, clearing seven feet.
Coach Rick Pitino predicted that freshman guard Jeff Sheppard would become a wildly popular player. Less than three minutes into a scrimmage during Big Blue Madness, a fan yelled. "Put Jeff Sheppard into the game." Sheppard brought the crowd to its feet during the dunking exhibition of Madness. Roars greeted his self-titled "Mean Lean" dunk: a flying one-handed rip. His freshman year at Kentucky almost didn't happen as planned. Pitino had decided to redshirt Sheppard because of tense play and weight loss, but he changed his mind after another look at the thin backcourt, where injury-prone senior Jeff Brassow is the only experienced reserve. In his freshman year at Kentucky, he saw action in 29 games. He scored 107 points in the season giving him a per game average of 3.7 while shooting 55.6 percent from the field, good enough for second on the team. Against Robert Morris on December 30, 1993, Sheppard led all UK's scorers with a career-high 18 points, hitting 5 of 6 from the field including two three-pointers. Sheppard hit 6-for-6 from the field and dished a season-high 5 assists on December 28, 1993, against San Francisco.
In his sophomore campaign, Sheppard saw action in 33 games, starting 27 of them. He scored 275 points on the season, averaging 8.3 points per game. In his first collegiate start, Sheppard scored a career-high 21 points, including five 3-pointers in the first half, to spark the No. 5 Wildcats to a 116-75 victory over Marshall on December 27, 1994. He made seven-of-nine shots and came up with five steals and four reboun& in his best overall effort as a Wildcat. "Sheppard has shown to me that he wants to be extraordinary," Pitino said, "That is a choice every player makes. He is a very active and live body."
In his junior year, Sheppard found himself on one of the most talented teams in Kentucky basketball history. His minutes decreased and so did his numbers. He was battling Derek Anderson for the two-guard spot. He played 435 minutes compared to 749 his sophomore year and saw action in 34 games but started only one. He scored 188 points, averaging 5.5 points per game. He snagged a career-high nine rebounds against Iona on December 29, 1995, while scoring a season-high 13 points. Sheppard sprained his ankle while sled-riding on January 5, 1996. This caused him to miss two games and he played limited minutes until he recovered fully. "Snow sledding is something we do not want," Pitino said. "Playing flag football or snow sledding are out. I wish they would play more with girls and stop the flag football and sled riding. I mean non-contact with girls, too." He played a season-high 23 minutes against Georgia Tech on December 9, 1995, scoring 12 points and grabbing four rebounds He came off the bench to score nine points, grab three rebounds and dish out six assists in 15 minutes against San Jose State in the Wildcats' first-round NCAA Tournament game on March 14, 1996. All season Sheppard sat patiently, didn't complain, and did whatever coach Rick Pitino wanted. On March 30, 1996, though, he became an unlikely hero for Kentucky and helped put the Wildcats within one win of their first national championship since 1978. Sheppard was forced into duty when All-American guard Tony Delk was sidelined with leg cramps late in the 81-74 win over Massachusetts in the Final Four. The junior guard, who started 21 games at point guard last year, had just seven points. However, all came in the final six minutes when Kentucky was in danger of letting the 15-point lead it had built to start the second half slip away. "I'm really happy right now," Sheppard said. "It is a childhood dream come true. I've always wanted to come to a Final Four with Kentucky. That's something I've dreamed of and to play a part in a win just makes it even more special. I feel blessed." The rest of 1996 is history of course. Kentucky captured its first NCAA championship in 18 years. The sixth national title in school history came through the scoring of senior Tony Delk and freshman Ron Mercer. And, of course, the famed pressure defense and the ability to use college basketball's deepest roster with the likes of Jeff Sheppard.
In November 1996, four days after saying he was "98 percent sure" he would not redshirt Jeff Sheppard for his senior season, Rick Pitino changed his mind. "There were a lot of factors that weighed heavily in this decision," Pitino said in announcing he had decided to redshirt Sheppard. "First, Jeff Sheppard has a strong desire to be redshirted, and he's been one of my most loyal talents since I've been at UK. Secondly, in order for Jeff to have a legitimate shot at the NBA, he has to start and play a considerable amount of time. He didn't start last season, and he wouldn't start this season. To be such a talented player, he at least deserves that opportunity for his senior season." He was slated to back up Derek Anderson for the defending national champions.
It was Rick Pitino who convinced Sheppard to redshirt, and it was Tubby Smith for whom he played his senior season. As a senior and team tri-captain, Sheppard played 1,064 minutes. He played in 38 games, starting in 37. He scored 521 points on the season averaging 13.7 points per game. He averaged four rebounds and 2.7 assists per game. Against Indiana on December 6, 1997, Sheppard finally acted like a shooting guard. He put up a career-high 20 shots in a 75-72 win over the Hoosiers in the RCA Dome. Sheppard had a career-high 21 points because he made nine of those shots. That was a major improvement over his 33.3 percent shooting in UK's previous six games. "I just went out to play and the shots came my way," said 'Sheppard. "I just have to play and let the game come to me." He matched that career-high 21 points just a few days later with his best game of the season as the No. 4 Wildcats overwhelmed the Canisius Golden Griffins with their full-court defense en route to a 81-54 victory on December 10, 1997. He scored 10 points in the first six minutes of the second half. He was 8-of-11 from the floor, including 4-0f-6 from 3-point territory. But statistics won't measure Jeff Sheppard's worth to this University of Kentucky basketball team. He was more than the team's shooting guard and leading scorer. He became the soft-spoken, steadying force on a team that has surprised almost everyone but itself. "Jeff Sheppard is as good a player athletically as I've coached," said Kentucky coach Tubby Smith. "However, he's even more valuable because of his leadership. There is not a more conscientious guy than Jeff Sheppard." On a team of no go-to guys, the Wildcats go to Sheppard. It's Sheppard whose name is called when coach Tubby Smith wants a jumper off a screen, a Sheppard specialty – whether it be from 10 feet or 20 feet. And it's Sheppard who never met a fast-break opportunity he didn't like. He leaves the floor on leap-frog trips to the goal with the knowledge that he can outjump most guards who oppose him. Going into the 1998 NCAA Final Four, Sheppard had scored in double figures in 15 of the last 17 games and was averaging 13.3 points and 3.9 rebounds per game. He was shooting 43.6 overall and 37.4 percent from 3-point range with a team-high 67 3-pointers. And Sheppard saved his best for last, or almost last, when, on March 28, 1998, with a chance to play for the national title on the line, Sheppard rescued Kentucky with some clutch 3-point shooting, finishing with a career-high 27 points and tying for the team lead in rebounds in an 86-85 win over Stanford in the Final Four. In the ensuing national championship game on March 30, 1998, "The Comeback Cats" rallied from a 41-31 halftime deficit to record the program's seventh, and most incredible, NCAA basketball championship beating Utah 78-69 . No team in championship game history had rallied from as large a halftime deficit to win. Kentucky was led by Scott Padgett's 17 points and Sheppard's 16 points. Sheppard was rewarded for his Final Four performances by being named the NCAA Final Four Most Outstanding Player. In the end, persistence paid a princely reward for Sheppard. Throw out UK's NCAA opener, when Sheppard played with the aftereffects of a badly sprained ankle —– and unsightly purple calf bruise from the ensuing treatment suffered the week before, and the senior produced 18, 16, 18, 27 and 16 points in the Cats' final five tilts, a heady average of 19 a game on a team known for balance. He hit 35 of 65 shots (53.8 percent), including 10 of 25 three-pointers (40 percent). In Sheppard's final month at Kentucky, he took chances and made them pay, wanted the ball down the stretch, buried the clutch shots. Who will forget the clutch interception he pulled at midcourt of the finals, turning the theft into a quick steal-and-slam and a 60-58 Kentucky lead, the Cats first advantage since the early moments? And his 8-footer on the right baseline over a collection of enemy arms put the Cats ahead for good 65-64 with 4:54 left. And with 4.8 seconds left, he was fittingly at the free-throw line, ready to score Kentucky's final two points of the night. "I almost had to get my eyes straight for the tears swelling up, because you realize you have a chance to win a championship," he said. "It's just pure emotion." He had one magical March. Potential fulfilled, that was the Jeff Sheppard Story in 1998.
Sheppard scored 1,091 points during his career at UK. Two other Cats have been named Final Four MVPs, Jack Givens in '78 and Delk in '96. Givens' jersey already hangs from the Rupp Arena rafters. Tony Delk's will no doubt follow sometime in the not-too-distant future. And Jeff Sheppard's jersey will one day hang there, too.
Sheppard played professional basketball for one year with the Atlanta Hawks and three years in Italy. Sheppard said, "The (professional) basketball was fun but just wasn't the same as when I played for the Wildcats."
Sheppard and his wife, former Kentucky basketball player Stacey Reed, tied the knot in May of 1998 before he went pro. They had dated throughout college. They decided to settle down in London, Kentucky. The two former Wildcats have two children, Madison and Reed. His son, Reed Sheppard, committed to play for Kentucky beginning in 2023 on November 20, 2021. Currently, Sheppard is a financial advisor with Family Wealth Group in London, Kentucky. Using his own terminology, he is now helping to dream-shape his client's retirement years through financial security.
Statistics:
| Season | G | GS | MP | FG | FGA | FG% | 2P | 2PA | 2P% | 3P | 3PA | 3P% | FT | FTA | FT% | ORB | DRB | TRB | AST | STL | BLK | TOV | PF | PTS |
| --- | --- | --- | --- | --- | --- | --- | --- | --- | --- | --- | --- | --- | --- | --- | --- | --- | --- | --- | --- | --- | --- | --- | --- | --- |
| 1993-94 | 29 | 0 | 8.9 | 1.4 | 2.5 | .556 | 1.1 | 1.8 | .623 | 0.2 | 0.7 | .368 | 0.7 | 1.1 | .645 | 0.3 | 0.5 | 0.8 | 1.0 | 0.6 | 0.1 | 0.8 | 1.3 | 3.7 |
| 1994-95 | 33 | 27 | 22.7 | 3.0 | 6.8 | .440 | 2.2 | 4.5 | .483 | 0.8 | 2.4 | .359 | 1.5 | 2.0 | .754 | | | 2.3 | 2.7 | 1.4 | 0.3 | 1.2 | 2.5 | 8.3 |
| 1995-96 | 34 | 1 | 12.8 | 1.9 | 3.7 | .520 | 1.3 | 2.4 | .531 | 0.6 | 1.3 | .500 | 1.1 | 1.7 | .621 | | | 2.1 | 1.9 | 0.5 | 0.1 | | 1.6 | 5.5 |
| 1997-98 | 38 | 37 | 28.0 | 4.9 | 11.0 | .444 | 3.0 | 6.1 | .500 | 1.9 | 5.0 | .376 | 2.1 | 2.9 | .703 | | | 4.0 | 2.7 | 1.2 | 0.2 | | 1.7 | 13.7 |
| Career | 134 | 65 | 18.7 | 2.9 | 6.3 | .464 | 2.0 | 3.8 | .513 | 1.0 | 2.5 | .388 | 1.4 | 2.0 | .691 | | | 2.4 | 2.1 | 0.9 | 0.2 | | 1.8 | 8.1 |
| Season | G | GS | MP | FG | FGA | FG% | 2P | 2PA | 2P% | 3P | 3PA | 3P% | FT | FTA | FT% | ORB | DRB | TRB | AST | STL | BLK | TOV | PF | PTS |
| --- | --- | --- | --- | --- | --- | --- | --- | --- | --- | --- | --- | --- | --- | --- | --- | --- | --- | --- | --- | --- | --- | --- | --- | --- |
| 1993-94 | 29 | 0 | 258 | 40 | 72 | .556 | 33 | 53 | .623 | 7 | 19 | .368 | 20 | 31 | .645 | 10 | 14 | 24 | 30 | 17 | 3 | 22 | 38 | 107 |
| 1994-95 | 33 | 27 | 748 | 99 | 225 | .440 | 71 | 147 | .483 | 28 | 78 | .359 | 49 | 65 | .754 | | | 75 | 89 | 45 | 9 | 40 | 83 | 275 |
| 1995-96 | 34 | 1 | 434 | 65 | 125 | .520 | 43 | 81 | .531 | 22 | 44 | .500 | 36 | 58 | .621 | | | 70 | 65 | 16 | 5 | | 54 | 188 |
| 1997-98 | 38 | 37 | 1065 | 186 | 419 | .444 | 115 | 230 | .500 | 71 | 189 | .376 | 78 | 111 | .703 | | | 151 | 104 | 47 | 7 | | 63 | 521 |
| Career | 134 | 65 | 2505 | 390 | 841 | .464 | 262 | 511 | .513 | 128 | 330 | .388 | 183 | 265 | .691 | 10 | 14 | 320 | 288 | 125 | 24 | 62 | 238 | 1091 |
Jeff Sheppard, From The Rafters of Rupp interview with Kyle Macy: