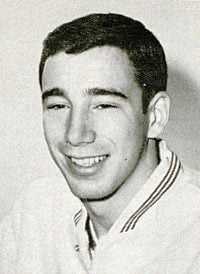 Name

Phil Argento

Position

Guard

Class

SR

Hometown (Last School)

Cleveland, OH (West)

Ht

6'2"

Wt

183

Seasons

1966-67, 1967-68, 1968-69

Birthday

February 22, 1947
Phil Argento was born Philip N. Argento on February 22, 1947, in Cleveland, Ohio to Anthony and Ruth Argento. He was raised on West 81st Street near Lorain Avenue. His family nationality is Italian and Irish.
Argento played for Cleveland West from 1962 through 1965, twice winning all-scholastic honors. Argento averaged about 30 points a game in each of his last two seasons as a feisty guard at West High School. Old-timers still talk about the time in 1964 he scorched Cleveland South High with 66 points in a 102-66 romp. That hiked his average to 31.5 and erased the one-game mark of 59 set in 1946 by Mike Medich of Benedictine. He made 26 of 45 field goal attempts and had a perfect night at the foul line, sinking 14 throws. He posted a career total of 1,259 points in 50 schoolboy games. That total could have been higher except for his mid-year graduation. He graduated in January 1965. He put new marks in the high school record books for scoring, rebounding, assists, field goals, and free throw shooting. He was twice named All-State.
In March of 1965, Argento signed a grant-in-aid to play at Kentucky. Argento chose Kentucky over Ohio State and Cincinnati. When he visited the Kentucky campus for the Georgia game a few weeks prior, Argento was highly impressed with the physical plant of UK. Also, Argento was impressed with Rupp, the Wildcats and he was sold on the way Rupp operates the guard offense.
Argento had an illustrious freshman record at Kentucky which saw him become the highest-scoring yearling in school history. Argento broke the UK freshman single-game point production mark four times (previously held by Johnny Cox) and posted a high point total of 50 for his best effort on February 22, 1966, against Dayton. He made 21 of 40 shots. His total was the highest ever managed on Dayton's fieldhouse floor. He scored 48 points on two occasions. He was the only "graduate" of a scholastically-depleted frosh club that won only five of 15 games. He finished the season with 460 points and sported a 30.7 average. Argento turned in a creditable accuracy mark of 47 percent on 372 shots from the floor. He also chalked up 78 percent on free throw attempts. Argento was voted winner of the Jaycees Freshman Leadership Award, following in the footsteps of Louie Dampier (1964) and Jim LeMaster (1965).
Kentucky unveiled its 1966-67 varsity and freshman basketball teams on November 28, 1966, and for the first time in UK history, there was only one sophomore on the team: Phil Argento. And he was the hit of the evening. The Cleveland, Ohio, sharpshooter scored 25 points for scrimmage honors. His passing and floor play drew raves from the crowd. Argento worked his way into the Wildcat lineup slowly, as expected, and came on strong at the season's end. He finished with a 5.2 scoring average, hitting 41 of 82 field goal attempts for an even 50 percent and 28 of 31 free throw attempts.
As a junior, Argento started 9 of 14 games, scoring 185 for the season, and averaging 13.2 points per game. On January 22, 1968, against Tennessee, Argento suffered an ankle injury in a pileup under the Wildcat basket with five seconds left. He was carried off the floor on a stretcher and did not play again until March 15, 1968, in the NCAA Mideast Regional Semifinals against Marquette.
As Kentucky's lone senior, Argento was named the Team Captain. He started all 28 games. He scored 281 points and dished 92 assists. On December 28, 1968, following a win over Notre Dame, Argento received the Bernie A. Shively Award as the game's most valuable player. Argento scored 27 points and brought the ball up the court against Notre Dame's pressing defense. Argento's parents, from Cleveland, Ohio, were in the stands. "I'm sure glad they were here for this one," Argento said beamingly as he showed the plaque to friends outside the dressing room. Argento sacrificed much of his scoring potential to carry a major playmaking load for the Wildcats. His main job was to setup the UK offense.
Two minutes remained in the March 8, 1969, game with Tennessee when reserve guard Bob McCowan left his seat on the Kentucky bench and reported to the official scorer but the capacity crowd of 11,500 in Memorial Coliseum knew what was going on. "McCowan for Argento," said the sophomore from Dayton and sat down to wait. Fifteen seconds later referee John McPherson blew his whistie. McCowan jumped to his feet but, hold everything. The man fouled was Phil Argento, the only senior in the Kentucky lineup, and the person McCowan was replacing. Argento looked over at McCowan and flashed a smile. Then he missed the free throw. So McCowan and the crowd waited, but not for long. Once again the whistle sounded, play stopped and this time the foul was on Argento. "McCowan for …." was as far as the public address announcer got before the crowd's roar drowned out all sound of his voice. And Phil Argento got the longest standing ovation heard at the Coliseum that year. It lasted a good 90 seconds and might have lasted longer had not Coach Adolph Rupp motioned for the embarrassed Argento to stand and acknowledge the prolonged ovation which threatened to delay the game. "It was very nice," Argento said after the game. "I was so happy about winning the game when I sat down on the bench it didn't dawn on me until a couple seconds later that this was my last game here. So I tried to thank everybody. I really appreciated it." Somebody else did too. It was the man sitting on the end seat, second row, right at midcourt on the west side of the Coliseum. His name was Tony Argento and he was Phil's father who brought the family down from Cleveland to see Phil's last home game. "I had goose pimples all over," Mr. Argento said. "I'll never forget it." Argento said he has enjoyed his four years at Kentucky. "They went by awfully fast," he said. "Larry Conley said to me you might think things are dragging out sometimes but one day it's suddenly all over. And it is. I'll miss this—it's a great life."
Pro basketball didn't appeal to Argento. "My wife does not like the idea too much," for one thing." He was drafted by North Carolina of the American Basketball Association and by Los Angeles of the National Basketball Association. "I feel sure I wouldn't be able to play for the Lakers and I definitely don't want to play for North Carolina," he added. He played instead in the National Amateur Basketball League for five seasons and later became a high school coach.
College Statistics:
| Season | G | GS | MP | FG | FGA | FG% | FT | FTA | FT% | TRB | AST | STL | BLK | TOV | PF | PTS |
| --- | --- | --- | --- | --- | --- | --- | --- | --- | --- | --- | --- | --- | --- | --- | --- | --- |
| 1966-67 | 21 | | 11.3 | 2.0 | 3.9 | .500 | 1.3 | 1.5 | .903 | 1.2 | 0.6 | | | | 1.6 | 5.2 |
| 1967-68 | 15 | | 21.0 | 4.9 | 10.0 | .487 | 2.6 | 3.2 | .813 | 2.5 | 2.7 | | | | 2.4 | 12.3 |
| 1968-69 | 28 | | 32.6 | 4.2 | 8.5 | .494 | 1.7 | 2.2 | .770 | 3.1 | 3.3 | | | | 2.2 | 10.0 |
| Career | 64 | | 22.9 | 3.6 | 7.3 | .493 | 1.8 | 2.2 | .814 | 2.4 | 2.3 | | | | 2.0 | 9.0 |
| Season | G | GS | MP | FG | FGA | FG% | FT | FTA | FT% | TRB | AST | STL | BLK | TOV | PF | PTS |
| --- | --- | --- | --- | --- | --- | --- | --- | --- | --- | --- | --- | --- | --- | --- | --- | --- |
| 1966-67 | 21 | | 237 | 41 | 82 | .500 | 28 | 31 | .903 | 25 | 13 | | | | 33 | 110 |
| 1967-68 | 15 | | 315 | 73 | 150 | .487 | 39 | 48 | .813 | 38 | 40 | | | | 36 | 185 |
| 1968-69 | 28 | | 912 | 117 | 237 | .494 | 47 | 61 | .770 | 88 | 92 | | | | 61 | 281 |
| Career | 64 | | 1464 | 231 | 469 | .493 | 114 | 140 | .814 | 151 | 145 | | | | 130 | 576 |