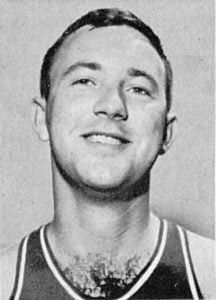 Name

Tom Harper

Position

Guard

Class

SR

Hometown (Last School)

Winchester, KY (Clark County)

Ht

6'2"

Wt

180

Seasons

1961-62, 1962-63, 1963-64

Birthday

February 13, 1942
Tom Harper was born Thomas P. Harper on February 13, 1942 in Winchester, Kentucky. He played at Kentucky from 1961 to 1964.
He attended Clark County High School, where he was a standout basketball player. He played the forward position in high school and averaged 25.7 points per game as a senior. His senior year, he scored 919 points setting a new school record. His coach, Letcher Norton, who was coach of the year three times, said Harper was the best shot they had ever had. Once, the southpaw, against Henry Clay, canned a 60-foot shot with 4 seconds left for a 69-68 win. Harper was named to the All-State team in 1960.
After graduating from high school, Harper enrolled at the University of Kentucky. He played for the Wildcats for three seasons. Harper averaged 4.9 points and 2.4 rebounds per game during his college career.
As a freshman at Kentucky, Harper started 17 of the freshman team's 18 games at guard. He posted a very respectable, 16.7 scoring average with 306 points. Harper connected from the field at a 45.5 percent accuracy clip that was the best of any regular and had a high-point effort of 32. He showed steady development in his scoring from mid-season on
As a sophomore at Kentucky, Harper saw sparse action, but led the team in point proficiency (time required to score a point) with an 84-second average. He played in just four games for a total time of 8:26 and scored six points. His high came in the Baylor game when he had four points.
As a junior, Harper was relegated to the "lost battalion," a group of a half dozen sparsely used reserves. He saw action in only one game against Dartmouth.
As a senior, Harper saw only 5 minutes of action in two games.
After graduating from Kentucky, where he earned his Master's degree, a double major in geography and English, and a minor in physical education, Harper went into secondary education as a teacher, coach, and assistant principal. He quickly became one of the most successful high school coaches in Kentucky guiding Clark County to a 3-year record of 74 wins and 20 losses including two quarter-final appearances in the state basketball tournament. He was named coach of the year in the Mid-State Conference in 1967 and 1969.
In 1969, Harper became an assistant coach for Eastern Kentucky's basketball team then eventually started his own real estate company.
In 1983, Harper was named to Eastern Kentucky University's Board of Regents.
Season
Games
Played
Minutes
FG
FGA
%
FT
FTA
%
Total
Rebs
Asst.
F
Total
Points
1961-62
4
–
2
8
25
2
4
50
5
1
2
6
1962-63
1
2
0
1
0
0
0
0
1
0
0
0
1963-64
2
5
1
2
50
2
2
100
1
0
0
4
Total
7
7
3
11
27.27
4
6
66.67
7
1
2
10