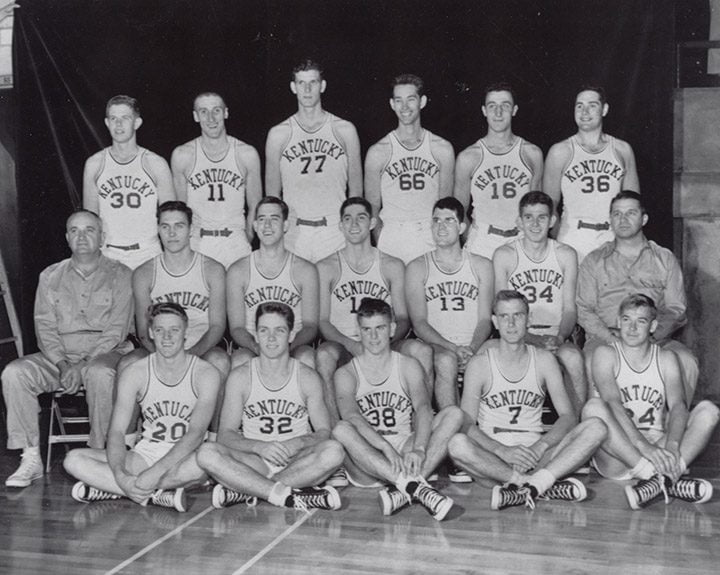 NCAA Championship #3
KENTUCKY 68, KANSAS STATE 58
March 27, 1951
Minneapolis

Season Recap
Kentucky opened the 1950-51 season on an 84-game home winning streak and the Wildcats began the year by moving from the antiquated Alumni Gym to the new 11,500-seat Memorial Coliseum that was designed to commemorate the Kentuckians who died in World War I, World War II and the Korean War.
Though illness plagued the team and its coach throughout the season, Kentucky compiled a 32-2 record and its third national title in four years. UK defeated archrival Louisville by 11 points, 79-68, in the opening round of the NCAA Tournament before breezing by St. John's in the next round. After posting a narrow 76-74 victory over Illinois in the East Regional championship, the Cats toppled Kansas State, 68-58, in the championship game.
Seven-foot center Bill Spivey led Kentucky, scoring 19.2 points per game during the season. He was followed by the junior duo of Shelby Linville and Bobby Watson, who each averaged 10.4 points per game. The Cats outscored their opponents by 757 points in UK's third championship season.
Championship Game
Bill Spivey scored 22 points and an ailing Cliff Hagan sparked the Wildcats to their third NCAA title. With a squad consisting of only six healthy players – Walt Hirsch was ineligible and Hagan was plagued by an infected throat – the Wildcats hardly looked like championship material as Kansas State broke out to a 20-12 lead. It was then that Rupp inserted the ailing Hagan. It was a move that may have proved the difference as the freshman forward sparked a rally that saw UK cut the Kansas State lead to 29-27 at the half. Led by Hagan and Spivey, who dominated the boards, UK outscored Kansas State 41-29 in the second half to complete the come-from-behind victory.
Boxscore
KENTUCKY

PLAYER      FG  FTM  FTA  PF  TP
Whitaker     4    1    0   2   9
Linville     2    4    8   5   8
Spivey       9    4    6   2  22
Ramsey       4    1    3   5   9
Watson       3    2    4   3   8
Hagan        5    0    2   5  10
Tsioropoulos 1    0    0   1   2
Newton       0    0    0   0   0

TOTALS      28   12   23  23  68

KANSAS STATE

PLAYER      FG  FTM  FTA  PF  TP
Head         3    2    2   5   8
Stone        3    6    8   3  12
Hitch        6    1    1   5  13
Barrett      2    0    2   1   4
Iverson      3    1    2   3   7
Housey       2    0    0   3   4
Gibson       0    1    1   5   1
Upson        0    0    0   1   0
Knostman     1    1    2   1   3
Peck         2    0    1   1   4
Schuyler     1    0    1   1   2

TOTALS      23   12   20  31  58

HALFTIME:
Kansas State 29, UK 27
Most Outstanding Player: Bill Spivey – scored a game-high 22 points on nine field goals and four free throws
1951 NCAA Tournament Bracket